It's a Kingdom of Power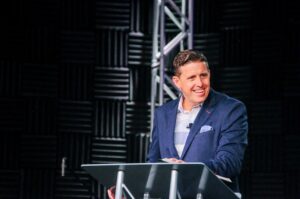 PRAYER: Family, Friends, Church, Community.
GREETINGS: Facebook, YouTube, Twitter, Online Community. Victory Crew Testimony.
This is PENTECOST SUNDAY—this may be the only Sunday most churches will talk "KINGDOM." Jesus tells us in Matthew 6:33 (NLT): "Seek the Kingdom of God above all else, and live righteously, and he will give you everything you need!" Speaks of Provision: What you Need, When you Need it.
Matthew 6:9-13 (KJV): "Our Father which art in heaven, Hallowed be thy name. Thy kingdom come. Thy will be done in earth, as it is in heaven. Give us this day our daily bread. And forgive us our debts, as we forgive our debtors. And lead us not into temp-tation, but deliver us from evil: For thine is the kingdom, and the power, and the glory, for ever. Amen."
The Kingdom of God is Kingdom of Power—Not Just For "Them" But "Forever"
Psalm 145:8-13 (NASB 1995): "The LORD is gracious and merciful; Slow to anger and great in lovingkindness. The LORD is good to all, And His mercies are over all His works. All your works shall give thanks to You, O LORD, And Your godly ones shall bless You. They shall speak of the glory of Your kingdom And talk of Your power; To make known to the sons of men Your mighty acts And the glory of the majesty of Your kingdom. Your kingdom is an everlasting kingdom, And Your dominion endures throughout all genera-tions."
The Goodness of the Lord is Merciful, Moral and Made Manifold
Manifold = A pipe or chamber that branches into several openings.
One of Those Blessings of God's Goodness is Power! Power for what?
POWER TO BELIEVE. Romans 15:13 (NASB 1995): "Now may the God of hope fill you with all joy and peace in believing, so that you will abound in hope by the power of the Holy Spirit."
POWER TO PRODUCE. Ephesians 3:20-21 (NASB 1995): "Now to Him who is able to do far more abundantly beyond all that we ask or think, according to the power that works within us, to Him be the glory in the church and in Christ Jesus to all generations forever and ever. Amen."
POWER TO PERFORM. 1 Corinthians 4:20 (NIV): "For the kingdom of God is not a matter of talk but of power."
POWER TO KEEP YOU FROM PERISHING. 1 Corinthians 1:18 (NASB 1995): "For the word of the cross is foolishness to those who are perishing, but to us who are being saved it is the power of God."
Rev. Bryan A. Tomes
Crossroads Community Church
www.crossroadsconnects.com