Give Me This Mountain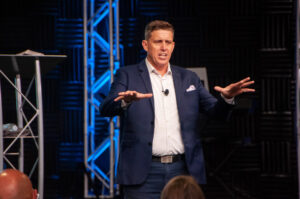 Joshua 14:6-13 (NLT): "6 A delegation from the tribe of Judah, led by Caleb son of  Jephunneh the Kenizzite, came to Joshua at Gilgal. Caleb said to Joshua, 'Remember what the LORD said to Moses, the man of God, about you and me when we were at  Kadesh-Barnea. 7 I was forty years old when Moses, the servant of the LORD, sent me from Kadesh-Barnea to explore the land of Canaan. I returned and gave an honest report, 8 but my brothers who went with me frightened the people from entering the  Promised Land. For my part, I wholeheartedly followed the LORD my God. 9 So that day Moses solemnly promised me, 'The land of Canaan on which you were just walking will  be your grant of land and that of your descendants forever because you  wholeheartedly followed the LORD my God.' 
10 'Now, as you can see, the LORD has kept me alive and well as he promised for all these forty-five years since Moses made this promise—even while Israel wandered in the wilderness. Today I am eighty-five years old. 11 I am as strong now as I was when  Moses sent me on that journey, and I can still travel and fight as well as I could then. 12  So give me the hill country that the LORD promised me. You will remember that as scouts we found the descendants of Anak living there in great, walled towns. But if the LORD is  with me, I will drive them out of the land, just as the LORD said.' 13 So Joshua blessed  Caleb son of Jephunneh and gave Hebron to him as his portion of land."
Joshua 14:12  (NKJV): "Now, therefore, give me this mountain of which the LORD spoke in that day."  
 Joshua 14:6 (NLT): "Remember what the LORD said to Moses, the man of God, about you and me when we were at Kadesh Barnea." 45 years have passed and they are now in the promised land. Israel wandered in the desert for 40 years for their disobedience and lack of faith: 1 year for every day the spies spent in the promised land investigating. They investigated what they should have invaded! (BTW) You Can Possess What God Has Promised!
2 Corinthians 1:20  (NIV): "For no matter how many promises God has made, they are 'Yes' in Christ. And so through him, the 'Amen' is spoken by us to the glory of God."  
In Order to Receive the Promise, You Must Give An Honest Report.
"Report" Definition: "give a spoken or written account of something that one has observed, heard,  done, or investigated; present oneself formally as having arrived at a particular place or  as ready to do something."
Joshua 14:7 (NLT): "I was 40 years old when Moses, the servant of the LORD, sent me from Kadesh-Barnea to explore the land of Canaan. I returned and gave an honest report."  
Honesty Is the Result of An Obedient Heart Toward God. Caleb reported what God did in his heart, Focused on the opportunity, not the obstacles, Tried to build encouragement and excitement. The spies reported what the enemy did in their  Hearts: Caused great fear, Made them feel like grasshoppers, Spread great fear and caused a rebellion. 
You Can Request Your Mountain By Releasing Your Faith.  
Faith to Forgive.  
Faith to Embrace.  
Faith to Move Forward. 
* 
Rev. Bryan A. Tomes 
Crossroads Community Church 
www.crossroadsconnects.com