Fullness Is My Focus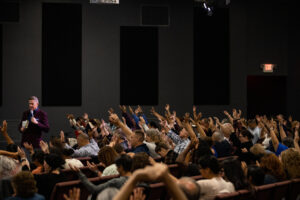 Colossians 2:6-10 (NKJV): "As you therefore have received Christ (Jesus the Lord), so walk in Him, rooted and built up in Him and established in the faith, (as you have been taught), abounding in it with thanksgiving. Beware less anyone cheat you through philosophy and empty deceit, according to the tradition of men, according to the basic principles of the world, and not according to Christ. For in Him dwells all the fullness of the Godhead bodily; and you are complete in Him, who is the head of all principality and power." 
I Built My First Computer About A Year and a Half Ago. I bought the MSI Z490 Mother Board, the Newest Intel Processor; a 30 Series Graphix Card, Mega Memory, Yada Yada Yada. We built the computer – perfection – the things I didn't buy was the OS. Can run the machine without it. Down-loaded a copy; No ID Code. It didn't run effectively, I had to get the credentials! Authentication Is Important To Your Operation.
I Will Walk In Him!!! 2 Corinthians 5:7 (NKJV): "For we walk by faith, not by sight." 
1 John 2:6 (NKJV): "He who says he abides in Him ought himself also to walk just as He walked."
Acts 17:28 (NKJV): "for in Him we live and move and have our being, as also some of your own poets have said, 'For we are also His offspring.'" 
                  Walking As Christ Walked Signifies Obedience and Establishes Covenant
My Faith Shall Be Established!!! Hebrews 11:3 (NKJV): "By faith we understand that
the worlds were framed by the word of God, so that the things which are seen were not made of things which are visible."     Faith is Kingdom Currency – God Honors Faith
I Won't Be Cheated!!! Colossians 2:8 (NKJV): "Beware lest anyone cheat you through philosophy and empty deceit, according to the tradition of men, according to the basic principles of the world, and not according to Christ." Cheat – Grk = Run Off with Booty (Stolen Valuables).
Fullness Is My Focus!!! Fullness (Grk) =  Cram, Furnish, Satisfy, Level Up. 
                 All Power, All Authority, All Sufficiency "Dwells" In You. 
Problem: People Live For Things That Matter
In Closing,  I Am Complete In Him!!!
*
Rev. Bryan A. Tomes 
Crossroads Community Church 
www.crossroadsconnects.com