Look That Way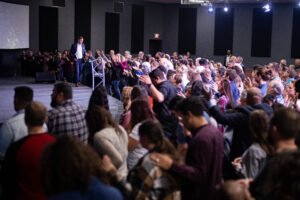 Philippians 3:10-14 (NLT): "I want to know Christ and experience the mighty power that raised him from the dead. I want to suffer with him, sharing in his death, so that one way or another I will experience the resurrection from the dead! Pressing toward the Goal. I don't mean to say that I have already achieved these things or that I have already reached perfection. But I press on to possess that perfection for which Christ Jesus first possessed me. No, dear brothers and sisters, I have not achieved it, but I focus on this one thing: Forgetting the past and looking forward to what lies ahead, I press on to reach the end of the race and receive the heavenly prize for which God, through Christ Jesus, is calling us." 
I Have This Friend That When He Drives He Likes To Talk (A Lot).  He would often be looking at me when he was talking to me. You can't get upset at what you sometimes do. I would find myself constantly saying—-> Look That Way! –And pointing forward towards the road. 
There is a word in here for you today! Can you see it, Do you believe it, Will you receive it? … God will  speak to you if you open your minds and heart today! Philippians 3:10 (NLT): "I Want to Know Him and Experience the Mighty Power That Raised Him From The Dead." 
                                                   3 Very Important Rules To Your Calling
You Must Forget The Past!!! Isaiah 43:18-19 (NKJV): "Do not remember the former things, Nor consider the things of old. Behold, I will do a new thing, Now it shall spring forth; Shall you not know it? I will even make a road in the wilderness And rivers in the desert." 
Imparted, Pt 4, Look This Way, p 2 
2 Corinthians 5:17 (NKJV): "Therefore, if anyone is in Christ, he is a new creation; old things have passed away; behold, all things have become new." The past is a place to learn from, not a place to live in. Don't sacrifice your future (Today) on the altar of your past. Don't land on what is Lost, land on what is left.
You Must Look Forward!!! Job 17:9 (NLT): "The righteous keep moving forward, and those with clean hands become stronger and stronger." Hebrews 11:10 (NLT): "Abraham was confidently looking forward to a city with eternal foundations, a city designed and built by God." Luke 9:62 (NLT): "Anyone who puts a hand to the plow and then looks back is not fit for the Kingdom of God."
You Must Press On To The End!!! Psalm 32:8-9 (NLT): "The LORD says, 'I will guide you along the best pathway for your life. I will advise you and watch over you. Do not be like a senseless horse or mule that needs a bit and bridle to keep it under control.'" Philippians 3:14 (NLT): "I press on to reach the end of the race and receive the heavenly prize for which God, through Christ Jesus, is calling us." 
In Closing, Philippians 4:4-7 (NLT): "Always be full of joy in the Lord. I say it again—rejoice! Let everyone see that you are considerate in all you do. Remember, the Lord is coming soon. Don't worry about anything; instead, pray about everything. Tell God what you need, and thank him for all he has done. Then you will experience God's peace, which exceeds anything we can understand. His peace will guard your hearts and minds as you live in Christ Jesus."
*
Rev. Bryan A. Tomes 
Crossroads Community Church 
www.crossroadsconnects.com