Open the Door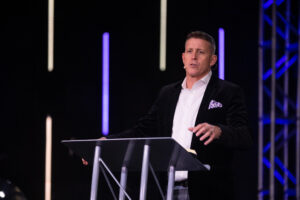 Luke 13:22-30 (NLT): "Jesus went through the towns and villages, teaching as he went, always pressing on toward Jerusalem. Someone asked him, 'Lord, will only a few be saved?' He replied, 'Work hard to enter the narrow door to God's Kingdom, for many will try to enter but will fail. When the master of the house has locked the door, it will be too late. You will stand outside knocking and pleading, "Lord, open the door for us!" But he will reply, "I don't know you or where you come from." Then you will say, "But we ate and drank with you, and you taught in our streets." And he will reply, "I tell you, I don't know you or where you come from. Get away from me, all you who do evil." There will be weeping and gnashing of teeth, for you will see Abraham, Isaac, Jacob, and all the prophets in the Kingdom of God, but you will be thrown out. And people will come from all over the world—from east and west, north and south—to take their places in the Kingdom of God. And note this: Some who seem least important now will be the greatest then, and some who are the greatest now will be least important then." 
Jesus Went Through the Towns and Villages (No Shortcuts In the Kingdom). There were some places He had to stay, there were some problems he had to solve. There were some Pharisees he had to school, there were some promises He had to fulfill. There were some people He had to save.
Teaching As He Went (Released What He Received). Every mission carried a message; Every meeting was miraculous, every invitation was instrumental.
Always Pressing On Toward Jerusalem (It Was His Purpose). Where He started wasn't where He finished, but He Always finished what He started. He knew His purpose and it carried power, provision and protection. 
                  So Many Christians Pray For Open Doors Instead of Opening Doors Through Prayer
Make the Kingdom A Priority (The Narrow Door). Matthew 6:33 (NLT): "Seek the Kingdom of God above all else, and live righteously, and he will give you everything you need." Seek first the Kingdom and its requirements.
Use the Kingdom Authority (The Open Door).  Matthew 16:19 (NLT): "And I will give you the keys of the Kingdom of Heaven. Whatever you forbid  on earth will be forbidden in heaven, and whatever you permit  on earth will be permitted in heaven." Use the Keys to access and enter into a new realm. 
Lose the Spirit of Superiority (The Locked Door). Luke 13:25 (NLT):  "When the master of the house has locked the door, it will be too late. You will stand outside knocking and pleading, 'Lord, open the door for us!' But he will reply, 'I don't know you or where you come from.'" The Master locked the door; they knocked and pleaded.
        "You Will See the Kingdom or You Will Be Seated In The Kingdom."
*
Rev. Bryan A. Tomes 
Crossroads Community Church 
www.crossroadsconnects.com