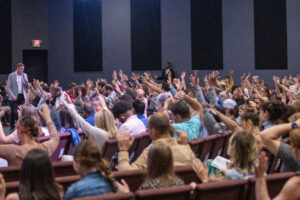 Luke 4:18-19 (NASB1995): "The Spirit of the Lord is upon Me, because He anointed Me to preach the gospel to the poor. He has sent Me to proclaim release to the captives, and recovery of sight to the blind, To set free those who are oppressed, to proclaim the favorable year of the Lord." 
Anointed to Preach the Gospel to the Poor: "The Lowly, those that are in Lack." The Greek Word for Poor is "Poor" —–> There is good news for the poor. "I have come that you might have life," an abundant life, John 10:10 (NLT). "Even young lions sometimes go hungry, but those who trust in the LORD will lack no good thing," Psalm 34:10 (NLT). "The blessing of the LORD makes a person rich, and he adds no sorrow with it," Proverbs 10:22 (NLT).
Anointed to Proclaim Release to the Captives: "Heal the Brokenhearted." The anointing is to set captives free – Freedom and Liberty – I Am Mandated. "For the Lord is the Spirit, and wherever the Spirit of the Lord is, there is freedom," 2 Corinthians 3:17 (NLT). "So Christ has truly set us free. Now make sure that you stay free, and don't get tied up again in slavery to the law," Galatians 5:1 (NLT).
Anointed to Proclaim Recovery of Sight to the Blind: "To Open People's Eyes." Recovery  of Sight – People lose sight of their future. "Open my eyes to see the wonderful truths in your instructions," Psalm 119:18 (NLT).  "I pray that the eyes of your heart may be enlightened in order that you may know the hope to which he has called you, the riches of his glorious inheritance in his holy people, and his incomparably great power for us who believe," Ephesians 1:18-19 (NIV). 
Anointed to Set Free Those Who Are Oppressed – "Freedom." People are bound —> addictions, lusts, mammon, fear and darkness. "I sought the LORD, and he answered me; he delivered me from all my fears," Psalm 34:4 (NIV). 
Anointed to Proclaim "The Favorable Year of the Lord," – "The Blessing." The Lord will provide all that you need and will be more than enough. "The LORD will guide you continually, And satisfy your soul in drought, And strengthen your bones; You shall be like a watered garden, And like a spring of water, whose waters do not fail," Isaiah 58:11 (NKJV).
*
Rev. Bryan A. Tomes 
Crossroads Community Church 
www.crossroadsconnects.com