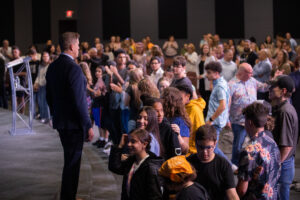 Ephesians 5:6-17 (NKJV): 6"Let no one deceive you with empty words, for because of these things the wrath of God comes upon the sons of disobedience. 7 Therefore do not be partakers with them. Walk in Light. 8 For you were once darkness, but now you are light in the Lord. Walk as children of light  9 (for the fruit of the Spirit is in all goodness, righteousness, and truth), 10 finding out what is acceptable to the Lord. 11 And have no fellowship with the unfruitful works of darkness, but rather  expose them. 12 For it is shameful even to speak of those things which are done by them in secret. 13 But all things that are  exposed are made manifest by the light, 14 for whatever makes manifest is light. Therefore He says: 
'Awake, you who sleep,
Arise from the dead,
And Christ will give you light.'
Walk in Wisdom. 15 See then that you walk circumspectly, not as fools but as wise, 16 redeeming the time, because the days are evil. 17 Therefore do not be unwise, but understand what the will of the Lord is. " 
Redeeming Your Time Is All About Restoring Your Future. Redeeming = Exagarazo: to buy up, i.e. ransom; figuratively, to rescue from loss (improve opportunity or position)–redeem. Redeem: by pay-ment of a price to recover from the power of another, to ransom, buy off. Life is too short to do everything we want to but it's long enough to do everything we are supposed to!
Consider "Your Walk" Carefully. "Walk as children of light (vs 8), See then that you walk circumspectly (vs 15)." We Should Walk Carefully in the Light. My Walk is Important to My World. "Therefore you shall keep the commandments of the LORD your God, to walk in His ways and to fear Him." Deut 8:6 (NKJV). There are major blessings for walking in His ways. "Be careful to not let "What's Good" steal "God's Best," –Spurgeon. "If we say that we have fellowship with Him and yet walk in darkness, we lie and do not practice the truth," 1 John 1:6 (NKJV). Sin will destroy your walk and shipwreck your blessings.
Understand "His Will" Prayerfully. "Understand what the will of the Lord is," Ephesians 5:17 (NKJV). It Requires Knowing the Difference Between "His" vs "My Will." Jesus Prayed: "Not My Will But Yours Be Done," Luke 22:42 (NKJV). The will of God is for our sanctification, 1 Thessalonians 4:3 (NKJV).  1 Thessalonians 5:12-22 (NKJV): "12 And we urge you, brethren, to recognize those who labor among you, and are over you in the Lord and [a] admonish you, 13 and to esteem them very highly in love for their work's sake. Be at peace among yourselves. 14 Now we [b] exhort you, brethren, warn those who are [c] unruly, comfort the fainthearted, uphold the weak, be patient with all. 15 See that no one renders evil for evil to anyone, but always pursue what is good both for yourselves and for all. 16 Rejoice always, 17 pray without ceasing, 18 in everything give thanks; for this is the will of God in Christ Jesus for you. 19 Do not quench the Spirit. 20 Do not despise prophecies. 21 Test all things; hold fast what is good. 22 Abstain from every form of evil."  Act Justly, Love Mercy and Walk Humbly with the Lord, Micah 5:8 (NKJV). God Will Fill Us With His Knowledge and Will, Colossians 1:9 (NKJV). This Requires Perseverance, Hebrews 10:36 (NKJV).
Always "Use Wisdom" Liberally. "Therefore do not be unwise," Ephesians 5:17 (NKJV). Walking carefully and prayerfully in His will requires wisdom. "So be careful how you live. Don't live like fools, but like those who are wise," Ephesians 5:15 (NLT). "If any of you lacks wisdom, let him ask of God, who gives to all liberally and without reproach, and it will be given to him," James 1:5 (NKJV).
*
Rev. Bryan A. Tomes 
Crossroads Community Church 
www.crossroadsconnects.com