Anointed to Navigate the Storms of Life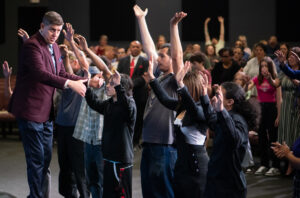 Psalm 138:7-8 (NLT): "Though I am surrounded by troubles, you will protect me from the anger of my enemies. You reach out your hand, and the power of your right hand saves me. The LORD will work out his plans for my life—for your faithful love, O LORD, endures forever. Don't abandon me, for you made me." 
We Have All Found Ourselves In A Place Called Trouble. Troubles Are Not Invited Into Our Lives —> They're Just Not Welcomed. No One wakes up and says, "Today looks like a good day for some Trouble." Troubles Often Happen Suddenly —-> Most People Are Unprepared. Troubles Are Usually Free —-> You don't have to pay for them! You definitely don't have to put them on your payroll… You can have as much as you want! Troubles Will Come —–> Jesus Said That —-> John 16:33 (NIV).
Troubles Are Often Likened To Storms —- This is Good News Because Just As Quickly As They Come Is Just As Quickly As They Can Go! Facts Concerning Storms ——> Important To Navigation —-> Evalua-tion. There Are 4 Types of Storms: Single Cell, Multi Cell, Squall Line, Super Cell. There are 5 Categories of Storms: 1) 74-95mph, 2) 96-110mph, 3) 111-129mph, 4) 130-156mph, 5)157+mph.
Two Great Stories In The New Testament That Can Help Us Navigate The Storms: 
Matthew 8:23-27 (NLT): "Then Jesus got into the boat and started across the lake with his disciples. Suddenly, a fierce storm struck the lake, with waves breaking into the boat. But Jesus was sleeping. The disciples went and woke him up, shouting, 'Lord, save us! We're going to drown!' Jesus responded, 'Why are you afraid? You have so little faith!' Then he got up and rebuked the wind and waves, and suddenly there was a great calm. The disciples were amazed. 'Who is this man?' they asked. 'Even the winds and waves obey him!'" Two Great Questions We Must All Ask Ourselves in the Middle of the Storms: Should I Be Afraid? And How Much Faith Do I Have?
Acts 27:13-22 (NLT): 13 "When a light wind began blowing from the south, the sailors thought they could make it. So they pulled up anchor and sailed close to the shore of Crete. But the weather changed abruptly, and a wind of typhoon strength (called a "northeaster") burst across the island and blew us out to sea. 15 The sailors couldn't turn the ship into the wind, so they gave up and let it run before the gale. We sailed along the sheltered side of a small island named Cauda, [a] where with great difficulty we hoisted aboard the lifeboat being towed behind us. 17 Then the sailors bound ropes around the hull of the ship to strengthen it. They were afraid of being driven across to the sandbars of Syrtis off the African coast, so they lowered the sea anchor to slow the ship and were driven before the wind. The next day, as gale-force winds continued to batter the ship, the crew began throwing the cargo overboard. 19 The following day they even took some of the ship's gear and threw it overboard. The terrible storm raged for many days, blotting out the sun and the stars, until at last all hope was gone. 21 No one had eaten for a long time. Finally, Paul called the crew together and said, 'Men, you should have listened to me in the first place and not left Crete. You would have avoided all this damage and loss. But take courage! None of you will lose your lives, even though the ship will go down.'" 
Before The Wind Came —–> The Word Came — God Always Prepares His People
Storms Might Batter The Ship —> Jesus Will Always Better The Ship
When You Lower The Anchor ——-> You'll Secure All Help And Hope
Hebrews 6:18-19 (NLT): "So God has given both his promise and his oath. These two things are unchangeable because it is impossible for God to lie. Therefore, we who have fled to him for refuge can have great confidence as we hold to the hope that lies before us. This hope is a strong and trustworthy anchor for our souls. It leads us through the curtain into God's inner sanctuary." 
*
Rev. Bryan A. Tomes 
Crossroads Community Church 
www.crossroadsconnects.com