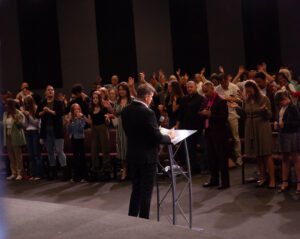 Romans 8:18-19 (NKJV): "For I consider that the sufferings of this present time are not worthy to be compared with the glory which shall be revealed in us. For the earnest expectation of the creation eagerly waits for the revealing of the sons of God." 
What You Can't See Is More Powerful Than What You Can See 
Romans 8:18 (NKJV): "For I consider that the sufferings of this present time are not worthy to be compared with the glory which shall be revealed in us." Suffering = Patherma; Hardship, pain, misfortune, calamity, evil, affliction. Affliction = anything that causes pain or hardship.
2 Corinthians 4:17 (NKJV): "For our light affliction, which is but for a moment, is working for us a far more exceeding and eternal weight of glory." 
Get Your Focus "Off" Of Your Problem and Put Your Focus On The Promise. 
2 Corinthians 3:16-18 (NKJV): "Nevertheless when one turns to the Lord, the veil is taken away. Now the Lord is the Spirit; and where the Spirit of the Lord is, there is liberty. But we all, with unveiled face, beholding as in a mirror the glory of the Lord, are being transformed into the same image from glory to glory, just as by the Spirit of the Lord." 
The Level of Your Expectation Determines The Level of Your Revelation. 
Romans 8:19 (NKJV): "For the earnest expectation of the creation eagerly waits for the revealing of the sons of God." Revealing = apokalypto; to take off the cover, to disclose: to reveal, to uncover, lay open what has been veiled or covered; to make bare, to make known, make manifest, disclose what before was unknown.
Take Off The Veil, p 2
1 Corinthians 2:9-12 (NKJV): "But as it is written: 'Eye has not seen, nor ear heard, Nor have entered into the heart of man The things which God has prepared for those who love Him.' But God has revealed them to us through His Spirit. For the Spirit searches all things, yes, the deep things of God. For what man knows the things of a man except the spirit of the man which is in him? Even so no one knows the things of God except the Spirit of God. Now we have received, not the spirit of the world, but the Spirit who is from God, that we might know the things that have been freely given to us by God."
*
Rev. Bryan A. Tomes 
Crossroads Community Church 
www.crossroadsconnects.com