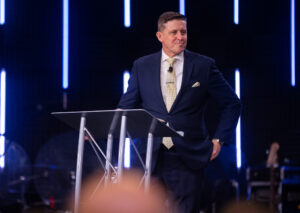 Colossians 2:6-10 (NLT): "And now, just as you accepted Christ Jesus as your Lord, you must continue to follow him. Let your roots grow down into him, and let your lives be built on him. Then your faith will grow strong in the truth you were taught, and you will overflow with thankfulness. Don't let anyone capture you with empty philosophies and high-sounding nonsense that come from human thinking and from the spiritual powers of this world, rather than from Christ. For in Christ lives all the fullness of God in a human body. So you also are complete through your union with Christ, who is the head over every ruler and authority. " 
              3 INSTRUCTIONS FROM APOSTLE PAUL TO THE CHURCH AT COLOSSAE (CROSSROADS)
CONTINUE TO FOLLOW HIM ——-> Connect. DON'T give up! Quitters never win—Winners never quit! "He who began a good work will complete it," Philippians 1:6 (NLT). God's Not Through With You!!!
TRUST His Plan, Process and Promises. Trust Is All About Truth. Trust His Word —-> For It Is the Source of All Truth. TRUST People Who Carry The Truth —-> Ambassadors. Look for people who will tell you the truth —–> The Good, The Bad and The Ugly. Look for people who tell you what you need to hear, not just what you want to hear.
Proverbs 3:5-6 (NIV): "Trust in the Lord with all your heart, and lean not
on your own understanding. In all your ways acknowledge Him, and He
will direct your path." It's Not Just About Fellowship But Followship!
LET YOUR ROOTS GROW DOWN IN HIM ——-> Grow. Deepen Your Roots: The Deeper the Root, The Bigger the Fruit. IF you want to Go Up—You have to Grow Up. GET Connected, Get Planted, Get Growing.
John 15:1-2 (NIV): "I am the true grapevine, and my Father is the gardener. He cuts off every branch of mine that doesn't produce fruit, and he prunes the branches that do bear fruit so they will produce even more."  
LET YOUR LIVES BE BUILT ON HIM ——-> SERVE. "Look, I am coming soon, bringing my reward with me to repay all people according to their deeds. I am the Alpha and the Omega, the First and the Last, the Beginning and the End."  Revelation 22:12-13 (NLT).
2 BLESSINGS FROM THE DIRECTIVES
Your Faith Will Grow Strong In God's Truths. Different Levels of Faith: Great Faith, Faith, Little Faith, and No Faith. WHERE are you on the Continuum of Faith?
You Will Overflow With Thankfulness. Overflowing!!! Too Much Causes An Over Flow (Repeat)
APPLICATION
GET ATTRACTED TO HIS PRESENCE. Psalm 16:11 (NASB1995): "You will make known to me the path of life. In your presence of joy; In Your right hand there are pleasures forever." James 4:8 (NASB1995): "Draw near to God and He will draw near to you. Cleanse your hands, you sinners; and purify your hearts, you double-minded."  
GET AN APPETITE FOR GOD'S WORD. Hebrews 11:6 (Legacy Standard Bible): "And without faith it is impossible to please Him, for he who comes to God must believe that He is and that He is a rewarder of those who seek Him." Romans 10:17 (NASB1995): "So faith comes from hearing, and hearing by the word of Christ." John 3:32 (NASB1995): "And you will know the truth and the truth will set you free." 
                             It's the known truth that sets you free—it's truth that is true to you.
Revelation = Something previously unknown now is known; especially in a dramatic way.
GET AMBITIOUS FOR THE CALLING.  John 17:1-2 (NASB1995): "Jesus spoke these things; and lifting up His eyes to heaven, He said, 'Father, the hour has come; glorify Your Son, that the Son may glorify You, even as You gave Him authority over all flesh, that to all whom You have given Him, He may give eternal life.'" 
*
Rev. Bryan A. Tomes 
Crossroads Community Church 
www.crossroadsconnects.com